Rodrigo Possebon didn't make any impact at Manchester United following his transfer to the club at the start of 2008. The midfielder moved from Internacional in the Brazilian league to Manchester United in January 2008 after he was spotted by a Brazil-based scout, John Calvert-Toulmin. The Manchester United scout was following up on the fullback duo of Rafael da Silva and Fabio da Silva when he spotted the midfielder. Rodrigo Possebon made just three Premier League appearances during his stay at Manchester United. The Brazilian was a Manchester United player for two-and-a-half years before he left to sign for Santos in August 2010.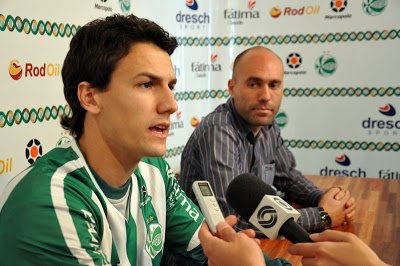 Santos announced his transfer when agreement had not been fully reached with Manchester United. In the end, the two teams reached an agreement over his transfer from English football to Brazilian football. His Santos debut came during the draw at the home of Atletico Mineiro in the Brazilian league.
Rodrigo Possebonmade 11 appearances for Santos in the Brazilian league before leaving the club in 2011 and his career went on a downward spiral afterwards. After leaving Brazilian club Santos, Rodrigo moved to Vicenza where he had a short spell as he didn't manage to make a single appearance for the club. He returned to Brazil to sign for lower league team Cariciuma in 2012. The midfielder played for both Vicenza and Cariciuma within the same year. At Cariciuma, Rodrigo played nine times before his exit.
Mirassol was the next club for Rodrigo Possebon when he left Cariciuma. After his short stint at Mirassol, the player signed for Juventude and he made seven appearances before his exit. His Mirassol and Juventude spells were in 2013. In 2014, he featured in seven games for Nautico before taking a two-year break from the round leather game. Rodrigo Possebon returned from the break to play for URT, Passo Fundo and Athletico SportsClub before hanging up his boots professionally.