Rodrigo Possebon was a relatively unknown quantity when Manchester United signed him during the winter transfer window in 2008. Rodrigo Possebonqualified for an Italian passport since his father is of Italian descent. To this effect, he was not affected by European Union legislation as regards non-Europeans working on the European continent. At Manchester United, Rodrigo Possebonwas given the number 34 jersey. The shirt was previously worn by Ryan Shawcross who vacated it for the rest of the 2007/08 season.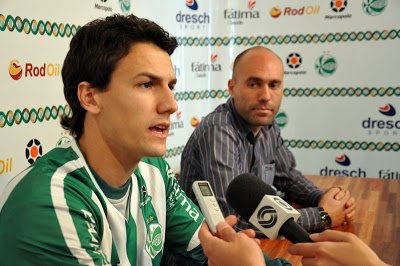 Manchester United boss Sir Alex Ferguson gave Rodrigo Possebon his debut as a substitute for Welshman Ryan Giggs. He came on for Giggs in the second half of the Newcastle United game played on August 17, 2008. The game ended in a 1-1 draw.
On September 23, 2008, Rodrigo was the victim of a poor tackle from Austrian defender Emmanuel Pogatetz and this could have led to a broken leg for him, while Pogatetz was sent off for the challenge. After tests were carried out, the Brazilian midfielder didn't break his leg. He made his return from the injury sustained during the Football League Cup clash with Middles brough in the reserve game between Manchester United and Manchester City on October 22, 2008. The derby game ended in a 3-0 win for Manchester United.
Rodrigo Possebon was given his FA Cup debut at Manchester United on February 13, 2009 as a second half substitute for Cristiano Ronaldo in a fifth round fixture with Derby County. He played the last 18 minutes of the game. At Manchester United, Rodrigo won two trophies during his time at the club including the 2008 FA Community Shield and the 2009 League Cup.
For the 2009/10 season, Rodrigo joined Sporting Braga on loan. He made just one appearance during his time at Braga before he returned to Manchester United. He left United to join Santos in his native Brazil in the summer of 2010.